About seven years ago, I (Jesse) was at a party and my former life coach approached me and said, "I've heard that you and Sharla have become quite successful.  Congratulations!" 
I was speechless.  Us?  Successful?  Really?  Is that what people think about us? 
Why was I so surprised and embarrassed?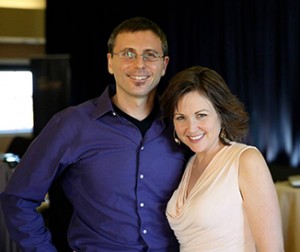 Sure, we had made $732,000 that year (in our third year of business together), but it didn't feel like we had arrived... not even close. 
I knew our struggles so intimately.  I knew how many people we wanted to reach. 
We weren't even close to where we wanted to be.
Four days after that party, I entertained the idea that we really were successful. 
I realized that in comparison to some people we were successful and in comparison to others, we were failures.
I discovered that nobody had the power to determine whether we were successful or not.  
So, if success isn't an objective truth then what is it?
Success is a choice as to how you see yourself. 
If you look for evidence that you're successful, you will feel successful.    
If you look for evidence that you haven't "made it" yet, you will feel like a failure.
After that party, I CHOSE to start seeing Sharla and I as a success. 
And we attracted more success to us.
Even if you just started your business, you can see yourself as a success.
Look back at your life and find tons of small successes that have made you the incredible human being that you are today.
No matter how unsuccessful you may think you are, you get to CHOOSE how you see yourself.  And you get to choose how you describe yourself to other people.
No matter how unsuccessful you may think that you are, I guarantee that you are at least two steps ahead of many people on this planet who could use your help. 
And two steps ahead of your people is ALL you need, if you want to be of service. 
In last week's blog post: How to Position Yourself as an Authority Without Sounding Arrogant, I wrote,
If you are trying to help someone get to the top of a mountain, would you rather get underneath them and push them up?  Or stand above them and pull them up?  
It's a LOT easier to stand above them and pull them up to your level.
So as long as you are two steps ahead of the people you want to help, you are in a GREAT position to help them.  
But how do you convey you are two steps ahead of them, without sounding arrogant, egotistical and full of yourself?
And what do you do if you're just starting out or you've just been in business for a very short time?  Or if you've been around for a while, but haven't quite "made it" yet, then how do you position yourself?
As we shared in last week's blog, if you just list your accomplishments or your expertise, with no humanity, you will sound arrogant.  
So it's important to share your humanity and your expertise. 
Here are some true examples from our life that might spark ideas for how you can position yourself by sharing both your humanity AND expertise.
How many people we've helped:
(Humanity) We struggled a lot in the beginning, but we never gave up.  And, because of our perseverance…
(Expertise) we've been fortunate enough to be able to help over 25,000 people.
The collective results of our clients:  
(Humanity) While we have had some clients who have not gotten any results,
(Expertise) we do have a LOT of clients who are making six figures and attribute their success to what they learned from us.  In fact, if you pooled all of our clients together, we could conservatively say that our clients have made tens of millions of dollars with what we have taught them.
 Our personal results:
(Humanity)In our first two years of leading workshops, we gave our heart and soul to our participants, but never earned more than $1,000 for the workshop. 
(Expertise) Recently, we led a live event that brought in over $500,000 in one weekend.  We feel so blessed to have learned so much over the last 10 years.
If you've helped a lot of people, gotten great results for your clients, and had tremendous personal results, you can use the three ideas above to help you decide how to position yourself without being arrogant.
But how do you position yourself if you're just starting out (or if you've been around for a while, but haven't quite "made it" yet)? 
Here are some ideas to get you started:
Use Your Personal Story

.




Your personal story (we call it Your Hero's Journey Story) is the story of

how you faced something (and got through to the other side)

that you now help your clients face.  You can share how you walked through your own "dark night of the soul (humanity)" and are now living an amazing life (expertise).  If you are someone who walks her/his talk, this also positions you in a way that has your Potential Clients believe that you can walk them through their dark night of the soul also.

Your Image. 


We recommend you

dress two notches higher than your potential clients

.  Many people make the mistake of continuing to dress how they do when they're with friends when they're doing business.  We recommend you dress like you're making 6 Figures.  Dress in a way that is both elegant (expertise) and uniquely you (humanity). 

How Long You Have Studied Your Profession (Personal Development PLUS Your Niche).  
Here's a great template that includes Humanity and Expertise: 

"I've studied personal development and________ (your niche: health, money, beauty, or love) for many years.   During this time, many people have been drawn to me, and asked for my support.  Enough people have approached me that I decided quite some time ago, to dedicate my life to helping a LOT/hundreds/thousands of people overcome this problem."

Here's how to come up with your own Positioning Statements: 

Step 1.
Make a list of all the different ways you can position yourself as an authority in your field (be truthful, of course).  (If you are struggling with the six positioning strategies listed above, we are happy to give you 10 more in our Client Attraction Mastery Home Study Program (we're launching on March 31st, so stay tuned).

Step 2.
Write up phrases you can say in conversation, in your emails, or on your website that bring humanity and expertise to your communication. 

Step 3. 
Practice saying these phrases in a safe place.  You can practice in front of the mirror or with a good friend.  You can also come to the Client Attraction Summit, which is a very safe place to practice positioning yourself in a community of heart-based people.

We'd love to hear how you feel about this.  Let us know in the comments below.