The past month has been amazing, insane and fulfilling all at the same time.  
Nearly 25,000 people opted in to see our video series and attend our webinars.  
And we welcomed in new clients from 19 different countries and 5 continents.  We are so grateful!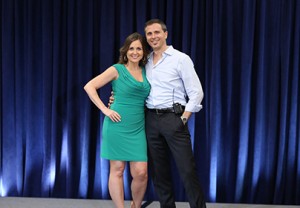 If you followed our launch, we hope the experience was valuable, inspiring and beneficial for you. The comments we received were heart-warming.
And Sharla and I (Jesse) feel so fulfilled by this launch, that we have decided to offer you a HUGE gift that we are preparing for you now... look for an email from us next Thursday about this gift. We think you'll LOVE it! 
Why was this launch so amazing, insane and fulfilling?
Sheesh!  We knew this launch was going to be a ride, but we didn't realize how much of a ride it would be.  
Behind the scenes, we learned TONS! 
Whether you're planning to launch your business (someday, maybe) or on the verge of launching something REALLY BIG, we hope you can learn from our experience and not repeat our mistakes. 
The Top 5 Lessons from our Launch
1) Plan Your Success and Celebrate (no matter what happens)
It's embarrassing to admit that in our first years of business, we were so busy "working hard" that we never stopped to plan or celebrate.  Can you relate? 
We prided ourselves on "flying by the seat of our pants," LOL!  Not so funny for our team...
We used to drive them crazy with our last minute changes and never-ending work ethic.
This time, we knew the launch could get really ugly if we didn't gather our amazing team together to plan our success and to make sure everyone was on the same page.  
We met with our team many times throughout the launch, to stay on the same page.  
It was so inspiring to feel that our team was genuinely excited for the Thrive Community to grow, even though the launch meant there would be some long days and late nights approaching for them.  We are SO lucky to have such an amazing team.
Yesterday we gathered with our team again to celebrate and acknowledge the great work we did together!  While it was our biggest launch ever, we were excited to report it was also our smoothest launch ever.  And it was really sweet to see how fulfilled our team was to see our Thrive Community double in size, practically overnight... 
One of our Thrive Coaches, Erin Delaney, said it was great to hear so many different accents from all over the world, on our teleseminar we led yesterday.
No matter whether you have a team or not, we encourage you to plan your success and then celebrate (even if it doesn't feel like a success!)  You do this enough times, and you'll need a big team supporting you.
2) Make Your Commitment BIGGER than your circumstances
We set a launch schedule that was barely attainable under the best of conditions. 6 weeks to create 4 value-packed videos, a webinar, 22 emails, and all web pages, etc.
If you read our last blog post, we were on the brink of disaster, you know that our whole family got sick, including nannies, which threw everything off... 
Our #1 commitment is to our boys, so Sharla or I stayed with the boys during the day, and we worked late at night to prepare our content for the videos.  
Did you see the amazing videos Sharla released? She recorded them with a burning fever, stopping only to quell coughing fits.  You might have been able to hear it in her voice.  But Sharla's spirit shines so brightly, that if you watched the videos, you would hardly know she was sick.  
This is because Sharla lives what we teach: 
When your commitment is BIGGER than your circumstances, you become magnetic.  
The world is starving for people who kick the back door shut, and say "I'm in, no matter what happens and no matter how I feel.  I'm in!!!"   Nothing was going to stop us.  "In sickness or in health, 'til death do us part." 
Many Coaches and Holistic Practitioners are not magnetic because they never fully commit to their business.  Or if they do commit, they are committed, unless X happens.  Or, unless they feel Y.  Then, they back out.  Magic happens when your commitment is BIGGER than your circumstances. 
3) Don't Let One Part of You Sabotage Your Entire Effort
This month, I worked harder than I have in a long time.  A part of me LOVED it.  I felt like I was in my 20's again, unstoppable, superhuman, and ready to change the world.  
But another part of me was not having it.  This part wanted to play and rest and roll around in bed with Sharla, and didn't give a flying *$#@ about the launch.  I shoved this part to the side for weeks... finally, during the last week of the launch, this part of me got super pissed off.  And very whiney!  And made my lower back ache like crazy.
So I took about 15 minutes to journal with this young part of myself.  And it wasn't until I promised him video games, and spaghetti dinners, and long cuddle sessions with Sharla that he finally backed off…and I felt "normal" again.  But I'm telling you, had I not done the journaling, my little guy would have ended up sabotaging the whole launch.  
So before launching anything, we recommend you gather your "inner team" together and literally get them all on the same page.  
What this means is: journal with the various different parts of yourself.  Chances are that you have a part of you that is EXCITED to expand.  And another part of you that is scared to expand.  And another part of you that wants to work really hard.  And another part of you that just wants to rest or play.  You can add more parts and invite them into the "part-y".  Name these different parts of you, and let them have a conversation on paper... because one part of you who is not on board, can sabotage the whole thing.  And, it pays to get everyone on the same page.
4) Fail Gracefully
"The more you fail, the more you succeed."  You may have heard this before, but how do you let yourself fail?  Especially if you're a perfectionist and often beat yourself up for not being perfect.  And how do you fail gracefully?
Well, one thing that's helped many of our clients is a distinction we introduce at the beginning of the Client Attraction Summit.  When you make a mistake (which is inevitable) instead of saying "I'm so stupid" you can just switch the words to "I'm so Sexy!"  
Here's how it works in real life:  
During one of our webinars, the slides that we had spent thousands of dollars to design (and Sharla had personally spent at least ten hours working on) did not upload correctly.  
With about 700 people on the webinar, it wasn't a great time to have a big breakdown like this.  And she couldn't say, "Give us about 10 minutes to fix the slides."  So instead of freaking out, Sharla said "I'm so sexy," (and then explained what "I'm so sexy" really means) and then did the webinar without slides.  
During several of the other webinars, the slides continued to get messed up in the uploading process, but Sharla did not let that stop her from staying in her heart and delivering the content we had planned to deliver.  Even if she was super sexy in the process. 
5) Make Connection with Your People More Important Than Marketing Advice 
Sharla got hundreds of beautiful, positive, inspiring comments on her videos... everything from her clothing selection, to her radiance and beauty, to how valuable the content was. But we also got a surprising number of negative comments about one thing: The timeline!  People were frustrated they didn't know how long the video was and couldn't rewind if they wanted to hear something again. 
Many marketing studies state that video engagement is higher when you don't have timelines. So we initially defended our decision by saying that we didn't want people to skip through the videos and consume them fast food style... but the frustrated comments kept coming. 
So after releasing video 3, we emailed our launch list with a heartfelt letter, sharing that we finally got it... and we were adding the timelines to the videos.
We got MANY emails and comments thanking us. And funny enough, the engagement with our videos actually increased after we added the timelines!
If we had it to do over again, we would have put the timelines in much sooner.
Okay, that sums up five of our biggest lessons.  If this was valuable for you, share it with friends.  And, leave us a comment and tell us your thoughts. 
Let us know what you think in the comment box below.