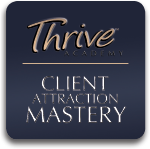 If your work contributes to the lives of others, but you never seem to have enough clients, it can be extremely discouraging.  Not only does your heart ache because you're not fully giving your gifts, you also don't get paid well enough, and may end up struggling just to make ends meet.
The only way to end this struggle is to master the art of client attraction.  Once you master this skill, you never have to worry about clients or money again.
In this program, you will discover how to:
Fill your schedule with high quality clients, anytime and anywhere
Convey your immense value so clients gladly pay you what you're worth
Get streams of referrals flowing to you
Feel confident in your ability to attract unlimited clients for the rest of your life
It's time to end the struggle, attract as many clients as you want, and finally thrive.
---
"I struggled for years to get 8-10 clients per week. During the Client Attraction Mastery Program, my client load jumped to over 25 per week.  I am booked 2-3 weeks in advance.  My "hobby" has turned into a six figure business."
Randy Lind, Certified Massage Therapist
---
Read more
Client Attraction Mastery success stories
.
To learn more about Client Attraction Mastery and discover if this program is a good match for you, call one of our Client Care Specialists at 1-800-632-2944.