Are you a healer who believes you're not supposed to sell?
Maybe you've been working at it for a while and you feel like you've hit a ceiling or a block around how big you can grow, how many clients you can get, or how much money you can earn.
Sometimes we are just too close to our own story and can't see the path that leads to the next level for ourselves.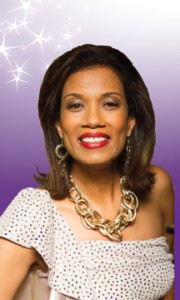 That's why I love hearing the story of someone else's journey and the specific steps they took to break free of their gremlins and evolve in their own business.
Today's blog post is an excerpt from my interview with $10,000-Month Club Member, Tomasa Macapinlac. Tomasa came to the Client Attraction Summit way back in 2008 (when it was called Rejuvenate Your Practice) as a practitioner of Acupressure and Jin Shin Jyustu.  She joined Thrive Academy Platinum and put what she learned into action quickly.
In the interview, Tomasa shares valuable insights about a serious mindset shift about what it means to be a healer and some simple steps she took to break through her money ceiling very quickly.
***************************************************
Sharla: Let's start from the beginning.Where were you [in your business] when you came to the Summit?
Tomasa: By the time I came to you guys it was 11 years since I'd been in business as a healing arts practitioner. And I was still working part time hours and I couldn't get past about $3,000 a month. I remember getting to about $1,600 a month and then I got to $3,000 a month.
And I'd been in the high tech world making a lot more money than that! It was like, "Tomasa, if this is the work that you love, then you need to take this to the level that you are capable of. You're not there and you know what? It's time to do it now."
Sharla: So I'm curious, what had you tried before? You couldn't get past the $3,000 a month mark. And you had previous sales experience. So you would think that with experience in sales you should be fine doing your own business, but it wasn't like that.
Tomasa: Here's the thing. I was not sitting in community. To get to that $3,000 a month in sales, it was more like going out and putting my flyers up wherever. There was an Elephant Pharmacy near me at the time which hosted holistic classes. And I would go and teach classes there and NOT make offers.
And I could feel people wanting to work with me more but I didn't know how to make an offer without feeling like, "Oh God, these people came to get information" and not feeling so salesy about it.
I began to realize after I started working with you [and Jesse] that I was doing a disservice to those people. Because here they were salivating for more of my work and I wasn't giving it to them. I would just give them whatever I had prepared for them, that one-hour class and I wouldn't make an offer at the end. I was doing them a disservice and I was wasting my time.
Sharla: So you would teach classes and not get any clients from it. I'm curious, what was your mindset?
Tomasa: I [used to] think that when you're a healer, you're not supposed to sell. We're not supposed to make offers. People are supposed to magically appear to us. Instead of us getting out there and sharing our gifts.
My mindset was, "This is the life of a healer. This is the way it's supposed to be."
Sharla: So it was like, "This is just the way it is" and there were no other possibilities.
Tomasa: Right.
Sharla: Wow! So what was the first big shift that you had that caused you to have a big income jump?
Tomasa: The first big shift for me was actually after the [Client Attraction Summit]... I was on a sliding scale with my clients. So they could pay me anywhere from $60-90 for a session. That was the first thing I did. I took away the sliding scale and I gave myself a raise. I think I said, "Anyone who comes to see me, they now pay $90 for a session." 
That was the first big thing that I did for myself. Anyone who was on the lower end of the scale they either went away or they paid the $90 per session.
And then probably the second thing I did was, I wasn't taking credit cards. I was only doing cash or checks. So I opened up a merchant account and started taking credit cards. I was already offering packages by the way. But my packages took another leap. They went on the higher end.
And I remember, I put them on paper. Oh, that was a big thing! [laughs]…
I noticed that when I wrote it up, people could see what they were saving but I also got more people to sign up for packages. Those who were not in packages, they [moved from one session at a time to a package].
So I began to have more of a loyal following with less sales. I didn't have to sell as much. People would buy their packages of six. And then I wouldn't have to keep selling them every time they came to see me. When six sessions were over, usually within 90 days, then they would just buy another package of six.
Sharla: I'm curious, your business has evolved. In the beginning it was just changing over to packages that made a difference. When you and I did a VIP Day together, I remember we really looked at how you were charging x dollars per package and this percentage of people you talk to say yes, and this percentage of people keep signing up for more. And we actually drilled down to exactly how many people you needed to talk to every month in order to have the practice of the size you wanted.
Tomasa: I know that I ended up having about 50 sessions a month and I started tracking all of my numbers after my VIP Day with you.
Sharla: Just the act of tracking your numbers is so valuable.
Tomasa: It is. Because you can get an overview of what your business looks like. How many conversations was I having? How many people would get offered the package? How many would say yes or no? How many were loyal clients? ...about 60-70% [of the people I talked with said Yes].
Sharla: I think that's a really powerful exercise. Just to write down those numbers of how many people you're talking with. It was really easy to get clear on how many clients you want and how many people you then need to talk to in order to have that happen.
Tomasa: Yes!
************************************************
By implementing just a few things Tomasa learned at Thrive Academy, she has a rockin' business!
To recap the tips Tomasa shared in her story:
Raise your rates by eliminating the sliding scale.
Make offers when you've got an audience. It's a disservice not to.
Take credit cards to make it easier for clients to pay.  (Easier now than years ago…
If you're not already set up, it's easy at www.SquareUp.com)
Offer packages so you don't have to sell over and over again.  For more on how to create packages, check out this blog post.
Show your potential clients your package rates on paper so they see how much they will save.
Figure out how many new clients you need each month to earn the income you desire...and then track it.
Years after joining Thrive Academy Platinum, Tomasa continues to consistently enjoy $10,000+ months in her business as "Your Holistic Business Mentor."  She also is the host of the Holistic Chamber of Commerce in San Ramon, CA. You can learn more about Tomasa at http://tomasamacapinlac.com/
Let us know your thoughts in the comment box below.