We're busy preparing for our biggest Client Attraction Summit ever!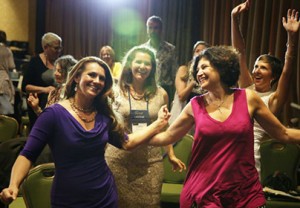 Even though we've led this event more than 70 times, we keep asking ourselves, "How can we make it an even better experience for our participants?"
When you create an experience for your clients that is ultra-supportive and you over-deliver on what they expect from you, they are much more likely to feel like they're getting a "deal," no matter what you charge.
In today's article, you'll get some great tips on how to provide excellent service to your clients so you can raise the bar on how much your clients value your work. And the even bigger and better benefit is that you'll raise your own level of confidence at the same time.
Whenever we introduce the experiential exercise designed to have you give yourself a raise during the Client Attraction Summit, some participants look excited and others look absolutely terrified! Eventually, they all come to understand what most 6-figure coaches and holistic practitioners know: there are always people happy to pay you more when they get more value.
You may have come to a point where you know it's time to raise your rates, yet it feels uncomfortable to make that move.
One of the first things to consider when you want to raise your rates is to raise the bar on how well you take care of your clients. You can feel really great about charging more for your work when you offer more value to your clients by providing excellent service.
You're about to read some easy tips for providing excellent service. These are little things you can do right away to instantly transform the way your clients feel about their experience of working with you (which will make them rave about you to all their friends – you'll see how this works from our own "rave").
#1: Provide a luxury experience
One of the best ways to provide excellent service is to give your clients a luxury experience. Don't worry – it doesn't involve the high level of the Ritz-Carlton or a Rolls Royce! However, the experience of luxury IS in the details. It's in those special touches you can add that make your clients feel like they are being really well taken care of.
A great example involves one of our graduates, Tina Ebrahimian, managing director of Ebrahimian Integrated Dentistry (in Scott's Valley, CA). From her we learned personally why paying more isn't an issue when the service is over the top.
After we witnessed Tina make over $500,000 in sales in the first month she was in our Client Attraction Mastery program, she invited us to visit their office. Our family quickly became patients of her daughter, Dr. Ariana. What followed was life-changing for us.
Our history with dentists for our children wasn't a positive one. When our older son Jacob was 2 ½ years old, we learned he had seven cavities (even though we brushed regularly and he ate healthy food—turns out it was from nighttime breastfeeding).
His pediatric dentist told us we'd have to put our son under general anesthesia to take care of those teeth. From the first shot, Jacob had a frightening and traumatic experience and it was heart-breaking for us.
But our experience with Dr. Ariana and the entire staff at Ebrahimian Integrated Dentistry was SO different…
Even though we had brushed our boys' teeth religiously after that horrible experience with the pediatric dentist – our younger son Zachary also got cavities from nighttime breastfeeding. We were, of course, concerned and scared that we were going to go through the same horror we had gone through with Jacob.
Dr. Ariana assured us she would do everything in her power to help us avoid putting our son under general anesthesia.
The first thing she did was spread the dental work over 3 appointments. Zach had an extraordinary experience and no pain.
While she was doing the work, we held his hand and she told all of us what to expect, every single step of the way.
And his cavities got filled with no anesthesia and no trauma. (Read: Mom and Dad letting out a big sigh of relief.)
This experience had us feel so well taken care of. We have become life-long loyal clients who share about them with everyone we meet! (How many people LOVE their dentist?!)
As for the luxury details: They put sunglasses on their patients, so the bright overhead light doesn't bother your eyes. They didn't miss one opportunity to help us feel comfortable – even offering tea! They're practice is booked because people are willing to pay more for that experience because we felt so well taken care of.
#2: Sheepskin and iPods
What are some of the little touches that you can provide to your clients so they will feel well taken care of, and so they are excited to work with you?
Here are a few examples to get your creative giving juices flowing:
My (Sharla) rock star bodyworker, Yarah Sutra, places a sheepskin underneath a 1,200 thread count sheet so it feels luxurious even getting on the table. Another massage therapist I visited years ago put hot packs under my hands and against my feet. This made me feel so relaxed and luxurious. She also had a shower in her office her clients could use after their massage.
What if you're a coach? Because we have so many clients in our group programs, we only see 5-6 private clients a year for VIP coaching.
One special thing we do is this: when the client comes to our home for a VIP Day (a day-long intensive) we gift them with a surprise iPod, so we can record the entire day of coaching, and they get to leave with the recording and their cool new iPod.
Let's say you're a nutrition coach, and you want to make your clients' experience even better. Can you do give them a done-for-you menu plan with recipes and shopping lists? Or how about sending them a beautiful basket stocked with some of your favorite organic products that will improve their health?
Be creative and have fun with this!
As you saw in the examples, be sure the things you do are relevant to the service you offer. No matter what your business, there are many things you can do to help your clients feel they're getting value. And they will be happy to pay you more!
Now it's your turn!
Comment below and share some ways you've received rock star service or share something you can do to add value to the service you're already providing.